Oscar Week is "Wizard of Oz" time, transforming the usually seedy Hollywood Boulevard into a red carpet wonderland, when the best of movie stars don the best couture, a do-over of New York and Paris Fashion Week, rolled up in one, when everyone is invited to watch the most plush runway show.
After a season of dieting and working-out that started out right before the holidays (tough) then ignited by the Golden Globes then running through the Grammys, the finishing line is the Oscars.
Rewarding them for their penance is the rewarding and fulfilling but still personalize-sized, portion-controlled yet still heart and soul-warming glammed up Wolfgang Puck's comfort meals at Hollywood's classiest cocktail party, the Oscars' Governors Ball Dinner.
Proving the Governors Ball committee is a real democracy, the Governors Ball's chair is costume designer, Jeffrey Kurland. Currently, he is the governor of the Art Director's Branch of the Academy of Motion Picture Arts and Sciences. He has twice served as chair of the Governor's Ball, both in 2010 and 2011, and designed the orchestra's gowns, as well as uniforms for the cocktail waitresses and wait staff.
Jeffrey is responsible for overseeing the décor, Wolfgang Puck's menu, and the entertainment planning.
"The theme of this year's Governors Ball is 'magicial transformation.' As they enter the Ball, guests will transition from a dazzling sea of red to a tricolor motif of eye-popping gold and red on an infinite blanket of white. The unique design of the space has been meticulously created to celebrate Oscar gold."
Too bad for Jeffrey, he's still a costume designer. So, welcoming the media, thru face-timing on location for "Mission Impossible," Jeffrey discussed this year's theme for the Governors Ball, "Mad Men" mid-century. Then, he said good-bye, wishing he was there.
Event Producer, Cheryl Cecchetto, took over the introduction from there...
working with Jeffrey, managing every detail planning to the event, the décor, entertainment, food, and personnel.
Only top-tier musical entertainment will do for the Oscars Governors Ball.
Cynthia Erivo, from the "Color Purple," will headline the Governors Ball with JoJo and the DJ husband & wife team, DJ M.O.S. and DJ Kiss.
The biggest defender and upholder of the Oscars' Governors Ball Dinner after-party is the adaptable, affable, and venerable Wolfgang Puck, the new California classic, comfort food with a twist.
Wolfgang explained, after three to two months of dieting and exercising then fitting and squeezing into corset-gowns and tuxedoes, in the middle of winter,.. people are starving.
The Oscars is the finishing line for these people. In fact, on the day of the Oscars, people have not eaten for eight to ten hours. When they see the ballroom, they know they will be fed.
Wolfgang's gift is not only turning traditional meals on their heads. He's great at transforming old-fashion meals into something cute, personal-sized, with a dash of glamour. Guests clamor for his personal-sized puffy pastry-lid chicken pot pie, draped by black truffle slices...Here's the recipe for your own Oscar dinner, whether it be a party or just your own party...
https://wolfgangpuck.com/dining/recipes/#
Wolfgang Puck's Classic Chicken Pot Pie
PASTRY 2 cups all-purpose flour 2 tablespoons snipped chives 3/4 cup unsalted butter, chilled, cut into small pieces 1 cup shredded sharp Cheddar cheese 2 egg yolks 6 tablespoons heavy cream
***To make it easier on everyone, you can buy and use puffy pastry as the crust lid. Just cut out a circle then top on the personal-sized pot of chicken stuffing.
CHICKEN & VEGETABLES 2 tablespoons unsalted butter 1 tablespoon vegetable oil 1 pound skinless, boneless chicken breasts, cut into 1-inch pieces 2 medium carrots, cut into 1/2-inch slices 1 stalk celery, cut into 1/2-inch slices 1/2 pound crimini or shiitake mushrooms, sliced 1 x 10 ounce package frozen pearl onions, thawed 3/4 cup frozen petite peas, thawed
SAUCE 6 tablespoons unsalted butter 1/4 cup all-purpose flour 1 1/2 cups chicken stock 1/2 cup heavy cream 1 teaspoon minced fresh thyme salt Freshly ground black pepper 1 egg with 1 tablespoon water, beaten.
1. Prepare the pastry: Place the flour and chives in a bowl. Using a pastry blender or your fingertips, work in the butter until mixture resembles coarse crumbs. Add the cheese and work in until just blend. In a small bowl, whisk together the yolks and 5 tablespoons of the cream. Sprinkle the yolk mixture over the pastry dough, a little at a time, stirring with a fork until pastry comes together. Add remaining cream if necessary. Knead lightly until just combined. Press pastry into a circle. Wrap in plastic wrap and refrigerate until needed.
2. Heat a large skillet over medium high heat and add the butter and vegetable oil. Sauté the chicken for 2-3 minutes, until lightly browned but not cooked through. With slotted spoon, remove chicken to bowl.
3. In the same pan over medium-high heat sauté the carrots, celery and mushrooms 5 minutes. With slotted spoon, remove vegetables to another bowl. Stir thawed pearl onions and peas into vegetables.
4. Prepare the sauce: In the same pan, melt the butter over medium heat. Add the flour and whisk until the mixture is bubbling and smooth, about 2 minutes. Remove from heat and gradually whisk in stock, cream, and thyme. Return skillet to heat, bring to a simmer, stirring constantly. Cook for 2 minutes until sauce has thickened and is smooth. Season with salt and pepper. Stir in reserved chicken and vegetables. Set aside to cool for about 20 minutes.
5. Preheat the oven to 400 degrees F. Spoon cooled chicken and vegetable mixture into a 10-inch deep-dish pie plate. On a lightly floured surface, roll out the pastry into a circle 11-inches in diameter. Place pastry on top of chicken mixture. Trim pastry edge, fold overhang under and press gently all around the baking dish to make a decorative edge. Reroll any trimmings and cut out to make a decorative design for top of pie. Brush pastry with beaten eggwash. Using a knife, cut 3 slits in center of pie.
6. Bake 25 to 30 minutes or until pastry is golden brown, chicken and vegetables are tender and filling is heated through. - See more at: https://wolfgangpuck.com/dining/recipes/#sthash.0F61PTfd.dpuf
In fact, the Governors Ball is Spago's on location. This why guests clamor for Wolfgang Puck. The post-award show dinner is an all-you-can-eat Spagos, for free!
As a Goose Greek/Charlestonian, this scribe never forgot her roots and loves to share fancy awards shows dishes that anyone, anywhere, anytime can do and copy, without feeling left out. No resentments means no hunger. Wolfgang Puck's food is thoughtful food.
Another comfort food classic that rewards, all that diet and exercise penance, is Wolfgang's Baked Mac n Cheese, topped with crunchy bread crumbs...
Baked Macaroni's and Cheese with Black Truffle Oil
8 ounces elbow macaroni
3 tablespoons butter
3 tablespoons flour
3-1/2 cups milk
1/2 medium white onion
1 bay leaf
10 ounces sharp aged white Cheddar cheese (grated)
3 ounces Gruyere cheese (grated)
1 ounce Parmesan cheese (grated)
1 teaspoon black pepper
pinch cayenne
1 teaspoon Kosher salt
3 tablespoons butter
1 cup brioche breadcrumbs
2 tablespoons chopped parsley
black winter truffle oil for drizzling
Preheat oven to 350 degrees F.
In large pot of boiling salted water, cook the macaroni to al dente (approximately 7 minutes). Strain and place on a lightly oiled sheet pan.
While the macaroni is cooking, in a separate pot, melt the butter and whisk in the flour. Continue to cook over low heat for 4 minutes stirring constantly. Add the milk, onion and bay leaf. Simmer for 10 minutes. Remove onion and bay leaf.
Turn off the heat and add 3/4 of the aged cheddar and all of the other cheeses. Season with cayenne, salt and black pepper and fold in macaroni. Divide into 4 ramekins and top with remaining cheddar.
Melt the butter in a sauté pan and toss bread crumbs and parsley to coat. Top the macaroni with bread crumb mixture. Bake for 15 minutes. Remove from the oven let stand for about 5 minutes. Finish with a few drops of black truffle oil and serve.
Along with Cheesecake Factory, and California Pizza Kitchen (CPK), Wolfgang Puck is the stand-bearer of the New California Cuisine; and he is also the pioneer and inventor of the New California Cuisine, due to last-minute ingenuity out of last-minute emergency and thrift.
His legendary Salmon Pizza and BBQ Chicken Pizza will return, in full force, for this Sunday's Governors Ball Cocktail, which is turning out into one of the best cocktail party.
For those who are cooking-challenged, don't fret. Just go to your local decent supermarket and buy ready-made, frozen CPK Pizza in BBQ Chicken then just bake and defrost in your oven. No harm done. No hurt ego.
But for those who crave the real thing, here are the recipes...

WOLFGANG PUCK'S BARBECUE CHICKEN PIZZA (Serves 5)
Prep time: 10 minutes
Cook time: 15 minutes
Total time: 25 minutes
INGREDIENTS
2 teaspoons olive oil
1 cup thinly sliced yellow and red bell peppers
All-purpose flour for rolling
1 pound refrigerated pizza dough
1/2 cup grated mozzarella cheese
1/2 cup fontina cheese
1-1/2 cups cooked chicken breast, cut into 1-inch pieces
1/4 cup barbecue sauce, warmed
1/4 teaspoon salt
1/3 teaspoon pepper
1/4 cup chopped flat-leaf parsley
DIRECTIONS
1. Preheat oven to 500 degrees.
2. Heat oil in a medium skillet over medium-high heat; saute peppers for 2 minutes. Set aside. Roll out pizza dough to a 15-inch round on a lightly floured surface; top with cheeses and sauteed peppers. Transfer to a baking pan. Bake pizza for about 12 minutes or until crust is golden brown.
3. Meanwhile, warm up chicken. Toss warm chicken pieces with barbecue sauce. Remove pizza from the oven; evenly arrange chicken on top. Sprinkle with salt and pepper, and top with parsley. Cut pizza into slices; serve.

Wolfgang Puck's Salmon Pizza is a legend unto it's own, which morphed into Oscar-shaped Smoked Salmon Oscar Matzo crackers...

According to him, the Salmon Pizza happened when a diner order salmon lox and bagels. Wolfgang and the staff panicked since they didn't have any bagels but they got a fresh ball of pizza dough.

So, hoping and praying, they went ahead, rolled out the pizza flat and thin, then baked open-faced, bare without topping. Then treating it as a flat, thin bagel, Wolfgang smeared cream cheese on the pizza crust then draped layers of smoked salmon then nervously sent it out. The diner loved it! Before he knew it, the Salmon Pizza was an hit that became a classic!
The calorie-friendly, omega-oil skin-friendly, and calcium-rich Salmon Pizza is an easy classic to make in the last-minute. Just buy ready-made pizza crust, smear a layer of cream cheese then top it off with smoked salmon. Easy for the cooking-tired and inept.

But for those who want the real thing, here's the recipe...


http://www.popsugar.com/food/Wolfgang-Pucks-Smoked-Salmon-Pizza-19050987
Pizza With Smoked Salmon and Caviar
1 recipe (24 ounces) pizza dough (see recipe below)
Flour, for dusting
1/4 cup extra-virgin olive oil
1 medium red onion, julienned
1/4 bunch fresh dill, minced, plus 4 small sprigs for garnish
1 cup sour cream or crème fraîche
Freshly ground pepper, to taste
16 ounces smoked salmon, sliced paper-thin
4 heaping tablespoons domestic golden caviar or salmon caviar
4 heaping teaspoons black osetra caviar
All Purpose Pizza Dough, https://wolfgangpuck.com/dining/recipes/
1 package active dry yeast
1 1/2 cups warm water (105 to 115 degrees F.)
1 tablespoon honey
2 tablespoons extra-virgin olive oil, plus additional for brushing the pizza crusts
3 cups all-purpose flour
1 teaspoon salt
Using a stand mixer: Combine the flour and salt and add it to the yeast mixture all at once. Mix it together using the paddle attachment, then change to the dough hook. Knead at low speed for 2 minutes, then turn up to medium speed and knead until the dough comes cleanly away from the sides of the bowl and clusters around the dough hook, about 5 minutes. Hold on to the machine if it bounces around. Turn out onto a clean work surface and knead by hand for 2 or 3 minutes longer. The dough should be smooth and elastic. When you press it with your finger it should slowly spring back, and it should not feel tacky.




Kneading the dough by hand: Mix together the yeast, honey, water and olive oil as directed in a medium-size or large bowl. Combine the flour and salt. Fold in the flour a cup at a time using a large wooden spoon. As soon as you can scrape the dough out in one piece, scrape it onto a lightly floured work surface and knead it for 10 minutes, adding flour as necessary until the dough is smooth and elastic.




Using a food processor: Mix together the yeast, honey, water and olive oil in a small bowl or measuring cup. Place the flour and salt in a food processor fitted with the steel blade. Pulse once or twice. Then, with the machine running, pour in the yeast mixture. Process until the dough forms a ball on the blades. Remove the dough from the processor and knead it on a lightly floured surface for a couple of minutes, adding flour as necessary, until it is smooth and elastic. Transfer the dough to a clean, lightly oiled bowl, rounded side down first, then rounded side up. Cover the bowl tightly with plastic wrap, and leave it in a warm spot to rise for 30 minutes (you can leave it for up to an hour).




When it is ready the dough will stretch as it is gently pulled. Divide the dough into 2 to 4 equal balls, depending on how large you want your pizzas to be. Shape each ball by gently pulling down the sides of the dough and tucking each pull under the bottom of the ball, working round and round the ball 4 or 5 times.




Then, on a smooth, unfloured surface, roll the ball around under your palm until the ball feels smooth and firm, about 1 minute. Put the balls on a tray or platter, cover with pan-sprayed plastic wrap or a damp towel, and leave them to rest for at least 30 minutes. At this point, the dough balls can be covered with plastic wrap and refrigerated for 1 to 2 days. You will need to punch them down again when you are ready to roll out the pizzas. Preheat the oven to 500 degrees F.




Place a pizza stone in the oven to heat. In the meantime, press out the dough. Place a ball of dough on a lightly floured surface. While turning the dough, press down on its center with the heel of your hand, gradually spreading it out to a circle 7 to 8 inches in diameter for small pizzas, 12 to 14 for larger pizzas. Alternatively, use a rolling pin to get an even circle.




With your fingers, form a slightly thicker raised rim around edge of the circle.




Brush everything but the rim with a little olive oil, then top the pizza as you like. You can transfer the pizza to a lightly oiled pizza pan if you like, or bake it directly on the stone.




Depending on your taste, spread the dough with marinara sauce or pesto sauce (about 2 tablespoons for small pizzas, 1/4 to 1/3 cup for larger ones).




If you don't have sauce, a can of tomatoes, drained, chopped, and seasoned with salt and chopped sautéed garlic, will do. Top with the shredded or grated cheeses of your choice (I like a mixture of mozzarella and fontina).




Add thinly sliced vegetables such as Roma tomatoes, pitted olives, red peppers, or red onions; sautéed sliced vegetables such as mushrooms, eggplant, zucchini, or artichoke hearts; thinly sliced cured meats such as pepperoni or prosciutto; or small pieces of lightly cooked chicken or shrimp.




Add a lightly sprinkling of grated Parmesan or crumbled goat cheese or blue cheese and some minced or julienned fresh herbs such as basil or oregano or dried herbs such as thyme, oregano, or herbes de Provence.




Dust a pizza paddle (also called a baker's peel) with semolina and slip it under the pizza.




Slide the pizza onto the baking stone or into the pizza pan (or place the pizza pan on the stone – the heat from the stone will help it achieve a crisp crust).




Bake until the cheese topping is bubbling and the rim of the crust is deep golden brown, about 10 minutes. Use the pizza paddle to slide the pizza out of the oven and onto a cutting board.




Use a pizza cutter or a sharp knife to cut the pizza into slices and serve immediately. Pizza Dough




1. In the bowl of a stand mixer, or a large bread bowl, dissolve the yeast in the water. Add the honey and stir together. Let sit 2 or 3 minutes or until the water is cloudy. Stir in the olive oil. - See more at: https://wolfgangpuck.com/dining/recipes/#sthash.0F61PTfd.dpuf




- See more at: https://wolfgangpuck.com/dining/recipes/#sthash.0F61PTfd.dpuf
Directions
30 minutes before you're ready to bake the pizzas, preheat the oven to 500ºF with a pizza stone inside.
Prepare pizza crust: Dip the ball of dough into flour, shake off the excess flour, place the dough on a clean, lightly floured surface, and start to stretch the dough. Press down on the center, spreading the dough into an 8-inch circle, with its outer rim a little thicker than the inner circle. If you find this difficult to do, use a small rolling pin to roll out the dough.
After the dough has been rolled or stretched into four 8-inch circles, place the pizzas on a lightly floured wooden peel. Brush the center of each pizza to within 1 inch of the edge with olive oil and sprinkle it with some of red onion. Slide the pizza onto the stone and bake 8 to 12 minutes or until crust is golden brown.
Make the dill cream: Mix the dill with the sour cream or crème fraîche and freshly ground pepper to taste.
Arrange the pizzas: Transfer the pizzas to heated dinner plates and spread them with the sour cream mixture.
Divide the salmon, and arrange decoratively over the cream.
Place a spoonful of golden caviar in the center of each pizza, then spoon a little of the black caviar into the center of the golden or salmon caviar. Cut each pizza into fourths and serve immediately.
For the extra-fancy, the Salmon Pizza morphed into delectable...
Smoked Salmon Oscar Matzo
Ingredients:
For cracker:

1 3/4 cups unbleached all-purpose flour

1 tablespoon chopped rosemary plus 2 (6-inch) sprigs

1 teaspoon baking powder

3/4 teaspoon salt

1/2 cup water

1/3 cup olive oil plus more for brushing

For salmon:

smoked salmon (at least 21 ounces)

crème fraiche (about 16 ounces)

caviar such as Petrossian (you can never have too much caviar)
Directions:
For flatbread:
Preheat oven to 450°F with a heavy baking sheet on rack in middle.
Stir together flour, chopped rosemary, baking powder, and salt in a medium bowl.
Make a well in center, then add water and oil and gradually stir into flour with a wooden spoon until a dough forms.
Knead dough gently on a work surface 4 or 5 times.
Divide dough into 3 pieces and roll out 1 piece (keep remaining pieces covered with plastic wrap) on a sheet of parchment paper into a 10-inch round (shape can be rustic; dough should be thin).
Cut out in the shape of an Oscar statue, if desired.
Lightly brush top with additional oil and scatter small clusters of rosemary leaves on top, pressing in slightly.
Slide round (still on parchment) onto preheated baking sheet and bake until pale golden and browned in spots, 8 to 10 minutes.
Transfer flatbread (discard parchment) to a rack to cool, then make 2 more rounds (1 at a time) on fresh parchment (do not oil or salt until just before baking).
Break into pieces, if using whole; if shaped into Oscar statues, let cool.
Spread crème fraiche on Oscar statues.
Top with smoked salmon and cut to fit the statues.
Top with caviar and enjoy.
Pressed for time, spread crème fraiche on a store bought crispy flatbread cracker and top with salmon and caviar.



Other than the Governors Ball is a free Spago-on-location, people are treating themselves to another portion-control, skin-friendly treat that's also an Only-in-Hollywood tapa, the mythical but absolutely real sweet-savory Sesame Miso Cone filled in with Spicy Tuna Tartare. You can only find and snap these sweet-savory treats at big Hollywood launches, debuts, and events. A recipe for a rare treat.




Spicy Tuna Tartare in Sesame Miso Cones by Wolfgang Puck but created by Lee Hefter

Ingredients for Tartare:
4 ounces diced # 1 sushi grade tuna
1 tablespoon diced pickled ginger
1 teaspoon chopped scallions
1 tablespoon soy sauce/wasabi mixture (see below)
2 tablespoons Spicy Chili Mayonnaise (see below)
Ingredients for Miso Tuile Cone:
4 ounces (1/2 stick) butter
1 cup corn syrup
1/8 cup miso paste
1/4 teaspoon salt
1/4 teaspoon black pepper
1 tablespoon sesame oil
1/2 cup all-purpose flour
1 tablespoon powdered ginger
1/2 cup sesame seeds (1/4 cup black, 1/4 cup white)
Directions:
1. Preheat oven to 350 degrees F.
2. In a medium saucepan, melt the butter together with the corn syrup. Do Not Boil.
3. Remove from the heat and whisk in miso paste and sesame oil.
4. Sift the flour, continuously stirring. Add the ginger and sesame seeds.
5. Bake in the oven on Silpats in 1 tablespoon portions for 10 minutes, then turn and bake for another 2 minutes.
6. Remove from the baking sheets and form into miniature cones.
Assembly and Presentation:
1. Mix together tartare ingredients. Place in plastic pastry bag.
2. Place cones (about 20) in cone holder. Place 2 daikon sprouts in each cone while piping in the tartare mixture.
3. Top with masago roe, julienne bonito flake, and chopped pickled ginger.
Soy Sauce/Wasabi Mixture made with 1/3 cup wasabi paste and 1 cup Japanese soy sauce. First, mix the wasabi paste with a little water, then mix with soy sauce. Be sure to shake or mix before every use.
Spicy Chili Mayonnaise is made with 1 cup of good quality prepared mayonnaise, 1/3 cup plus 1/4 tablespoon chili sauce (like Sriracha) and 1/4 teaspoon sesame oil (Kadoya brand), all mixed together.


That fried lump next to the Caviar Baked Potato, wrapped in gold foil, is Lobster Corn Dog. Yep, this scribe has said it...
SERVINGS
2
Corn Dog Batter:
2 cups fresh local milk
1 ear fresh local corn
2 each farm-fresh eggs
1 1/2 cups organic yellow cornmeal
1 cup AP flour
1 tablespoon Maine sea salt
4 tablespoon cornstarch (for dredging)
1. Remove corn kernels from cobb with sharp knife.
2. Cut cobb into 4 or 5 pieces.
3. Simmer kernels and cobb in milk 10 minutes and then strain and cool "corn milk."
4. Add beaten egg yolks to "corn milk," then fold in cornmeal, flour, and salt. Dredge each lobster dog in cornstarch before dipping in batter.
Lobster Dogs:
2 each shucked lobster tails
1 pound sweet cream butter, clarified
1 teaspoon Maine sea salt
1 ounce fresh lemon juice
2 each wooden skewers
1. Place 1 raw lobster tail in center of 12" by 12" square plastic wrap.
2. Roll tail tightly in plastic wrap and twist both ends to form tight sausage or hot dog shape.
3. Tie a simple knot on both ends to secure package.
4. Gently perforate tail package with tip of sharp pointed knife, being careful not to penetrate too far into lobster.
5. Repeat procedure with second tail.
6. Poach tails in clarified butter at 140 degrees F 10 to 12 minutes, until firm.
7. Remove tails from butter and refrigerate.
8. Reserve clarified butter for use in preparation of truffled lobster hollandaise dipping sauce.
9. Once tails have cooled remove plastic wrap and insert wooden skewers lengthwise into tails, about 3/4 way in.
10. Return skewered tails to cooler and allow to chill thoroughly
11. Dredge each lobster dog in cornstarch, then dip tails into corn batter and fry in 350 degree F vegetable oil 3 to 4 minutes, until golden brown and crisp.
12. Remove from fryer, drain, and season with Maine sea salt.
13. Serve immediately with dipping sauces.

Since guests have been starving for the past three to two months for that magical moment, called the Oscars, they're rewarding themselves by shoving snack food that you can do too...
Ingredients: •1 bag of microwaved popcorn •2 tablespoons of grated parmesan•1 tablespoon of white truffle oil•1 teaspoon of salt•1 teaspoon of black pepper•1 tablespoon of chopped chives•1 tablespoon of chopped Italian parsley
Directions: Place all ingredients on popped bag of popcorn and shake until ingredients are equally dispersed.
Rosemary Spiced Mixed Nuts with Brown Sugar, Sea Salt, & Cayenne.
⅓ pound pecans
⅓ pound almonds
⅓ pound walnuts
1 tablespoon melted butter
3 tablespoons coarsely chopped fresh rosemary
1 tablespoon dark brown sugar
½ teaspoon cayenne pepper
1 tablespoon flaky sea salt or kosher salt
Then the following are classics enough that you can find the recipes on your own, since this scribe can't find them herself but they shouldn't be ignored because they're classics that you can eat anytime of the year...
Moroccan Short Rib resting on a bed of mashed parsnip...
Wolfgang Puck's Braised Kobe Short Ribs
Ingredients
1 bottle Cabernet Sauvignon
2 tablespoons vegetable oil
6 Kobe short ribs, trimmed (regular beef short ribs can be used)
Salt
1 teaspoon black peppercorns, crushed
Flour, for dredging
10 cloves garlic, peeled
8 large shallots, peeled, trimmed, rinsed, split and dried
2 medium organic carrots, peeled, trimmed and cut into 1-inch lengths
2 stalks organic celery, peeled, trimmed and cut into 1-inch lengths
1 medium leek, white and light green parts only, coarsely chopped
6 sprigs Italian parsley
2 sprigs thyme
2 bay leaves
2 tablespoons tomato paste
2 quarts unsalted organic beef stock (or chicken stock)
Freshly ground white pepper
Cooking Directions
Put the wine in a large saucepan and bring to a boil over high heat. Continue boiling until the liquid reduces to half its original volume, 20 to 30 minutes. Remove from the heat and set aside.
Center a rack in the oven and preheat the oven to 350 degrees F.
Heat the oil in a Dutch oven or large casserole, large enough to hold 6 ribs, over medium-high heat. Season the ribs all over with salt and the crushed pepper. Dust the ribs with about 2 tablespoons of flour and then when the oil is hot, slip the ribs into the pot and sear for 4 to 5 minutes on each side, until well browned.
Transfer the browned ribs to a plate. Remove all but 1 tablespoon of fat from the pot; lower the heat to medium, and toss in the vegetables and herbs. Brown the vegetables lightly, 5 to 7 minutes, then stir in the tomato paste and cook for 1 minute to blend.
Add the reduced wine, browned ribs, and stock to the pot. Bring to a boil; cover the pot tightly, and slide it into the oven to braise for about 2 ½ hours, or until the ribs are tender enough to be easily pierced with a fork. Every 30 minutes or so, lift the lid and skim and discard whatever fat may have bubbled up to the surface.
Presentation:
Using six heated serving plates, place one rib in the center of each plate. Serve with Spring Vegetable Risotto.
Recipe courtesy of Wolfgang Puck
Alright, sorry for the tease but here's the recipe of Caviar Baked Potato...
ROASTED YUKON GOLD POTATOES WITH CRÈME FRAÎCHE AND IRANIAN OSETRA CAVIAR
(Recipe courtesy Wolfgang Puck, 2004)
Serves 12
Ingredients
12 medium Yukon Gold potatoes
2 ounces Iranian osetra caviar
Crème Fraîche (recipe follows)
Instructions
Preheat oven to 350 degrees F.
Wash and dry potatoes. Wrap individually with aluminum foil.
Place on baking sheet and bake for 1 hour.
Remove potatoes from oven and set aside.
Crème Fraîche
Ingredients
2 tablespoons buttermilk
1 cup heavy cream
Instructions
Stir together the ingredients and let sit at room temperature, covered, until the mixture thickens, usually overnight. Scrape into a container, cover, and refrigerate until needed.
Score and pinch each potato. Dollop with a little bit of the crème fraîche and osetra caviar.
Well, if you can buy a bag of truffle popcorns, you can buy a tub or a bag of Florentine Cookies, but...
If you want to impress with your prowess, go ahead and Wolfgang's Chocolate Chip Cookies...
— Instead of all-purpose flour, I use cake or pastry flour to give the cookies a finer, more tender crumb.
— Instead of equal parts brown and white sugar, I use a little more brown sugar for richer-tasting results.
— And, before mixing and baking the batter, I toast the nuts, which gives them extra crunch and deeper flavor.
The recipe doubles easily if you want to please a crowd. And for an extra-special treat, sandwich a scoop of your favorite ice cream between two of the large cookies.
CHOCOLATE CHIP COOKIES
Makes 12 large cookies or 36 small cookies.
1 cup shelled walnut or pecan halves
1-3/4 cups cake flour or pastry flour
1/2 teaspoon salt
6 ounces unsalted butter, at room temperature
3/4 cup light brown sugar
1/2 cup granulated sugar
1/2 teaspoon baking soda
2 teaspoons warm water
1 large egg
1 teaspoon pure vanilla extract
1 cup semisweet, bittersweet or milk chocolate chips
To prepare oven:
Preheat oven to 375 degrees.
To toast nuts:
Arrange nuts on baking tray. Place in oven. Roast, turning occasionally with spatula, for 12 to 15 minutes or until fragrant and slightly darker in color. (Note: Watch carefully; nuts can burn quickly.) Remove tray from oven. Set nuts aside to cool. Turn off oven. Using knife or food processor, coarsely chop nuts. Set aside.
To make batter:
In mixing bowl, sift together flour and salt. Set aside. Put butter in bowl of electric mixer. Using paddle attachment, beat butter at low speed until light and fluffy. Still beating on low speed, gradually add brown sugar and granulated sugar. Increase mixer speed to medium. Beat until well combined. In cup or small bowl, stir together baking soda and warm water until baking soda dissolves. Still beating, add baking soda mixture to butter mixture. Add egg and vanilla. Beat until smooth. Turn off machine. Sprinkle in nuts. Evenly sprinkle in flour around blade. At medium speed, mix just until flour is incorporated.
To chill batter:
On counter, spread sheet of plastic wrap large enough to enclose dough. Turn out dough from bowl onto plastic. Wrap up. Refrigerate for 2 to 3 hours or until dough is firm.
To prepare oven, baking sheets:
Preheat oven to 375 degrees. Line 1 or more baking sheets with parchment paper.
To shape cookies:
Remove dough from refrigerator. Unwrap. Using lightly floured hands, shape dough into 12 equal balls about 3 ounces each (or 36 balls about 1 ounce each for smaller cookies). Arrange cookies on prepared baking sheet 3 inches apart (or 2 inches apart for smaller cookies). Using hand, flatten each ball slightly.
To bake cookies:
Bake for 20 to 22 minutes or until golden brown (or 15 to 18 minutes for smaller cookies). Cool on baking sheet for a few minutes. Transfer to rack. Cool completely. Store in airtight container.
Since Wolfgang's Vice President Culinary, Eric Klein upped the ante by inserting Lemonade, Cherry Pop Rock, Cookies & Cream Rice Krispies into Krispy Pops, you can do a simpler version...
Lemonade Rice Krispies Treats Recipe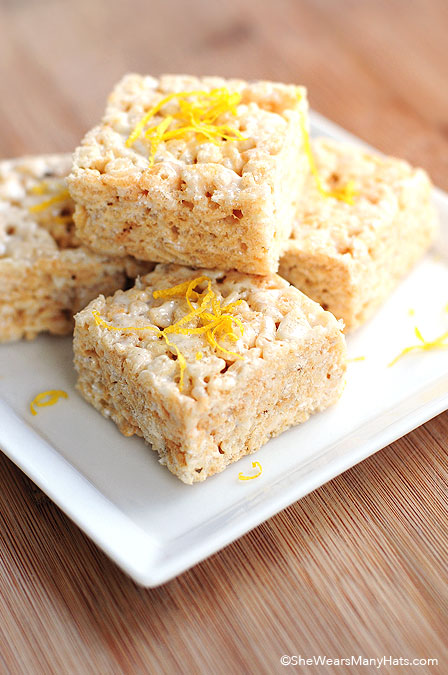 Rice Krispies treats made with the addition of white chocolate chips and fresh lemon zest.
Author:
Amy Johnson | She Wears Many Hats
Ingredients
3 tablespoons butter or margarine
4 cups miniature marshmallows
6 cups Rice Krispies®
½ cup white chocolate chips (optional)
1 ½ teaspoons lemon zest, not compressed (about 2 large lemons)
Instructions
Melt butter over low heat in a large saucepan. Add marshmallows and stir until completely melted. Remove from heat.
Stir white chocolate chips and lemon zest into marshmallow mixture. Add in Rice Krispies® cereal and stir
Spray a 13x9-inch pan or cookie sheet and a spatula with non-stick cooking spray. Pour Lemonade Rice Krispies® mixture into pan and spread with spatula. Cool completely.
Hey! It ain't dessert unless there's chocolate!!!
Wolfgang's Absolutely Luscious Brownies
ingredients
3/4 pound bittersweet chocolate, coarsely chopped
8 ounces unsalted butter, cut small pieces
1 teaspoon instant espresso, MIXED WITH
1 tablespoon hot water, (optional)
1 1/2 cup all-purpose flour
1 teaspoon baking powder
1/2 teaspoon salt
4 large eggs
2 cups granulated sugar
1 teaspoon vanilla extract
2 cups coarsely chopped walnuts
directions
Position rack in center of oven and preheat oven to 350 degrees F. Butter, or coat with vegetable spray, an 8-inch square baking pan. Dust with flour, tapping out excess flour. Set aside.

In the top of double boiler or medium heatproof bowl set over simmering water, combine chocolate, butter, and espresso (if desired), stirring occasionally until almost melted. Turn off the heat, stir, and let melt completely.

Sift together the flour, baking powder, and salt. Set aside.

In a large heatproof mixing bowl set over simmering water, whisk the eggs, sugar, and vanilla until the sugar dissolves.

Transfer to the large bowl of an electric mixer, on high speed, using paddle or beaters, beat until pale yellow. Lower speed to medium, scrape in the chocolate mixture, and beat until well mixed.

On low speed, gradually add flour mixture and beat just until combined. Add 1 cup of walnuts and again, on low speed, beat just until combined. Scrape into prepared pan and sprinkle remaining walnuts over top of cake.

Bake until edges of cake pull away from sides of pan and a toothpick inserted into center of cake comes out clean, 40 to 45 minutes. Cool on wire rack.

To serve, cut the brownies into 2 1/2 inch squares. Serve as is or with softly whipped cream or ice cream of your choice.
This is the easiest yet the fanciest, Chocolate Bark studded with fruits and nuts...
Dark-Chocolate Bark with Walnuts and Dried Cherries
1 1/2 cups walnut halves (6 ounces)

9 ounces bittersweet chocolate, finely chopped

1 cup dried sour cherries (4 ounces), coarsely chopped

2 tablespoons finely chopped crystallized ginger
Preheat the oven to 350°. Spread the walnuts on a baking sheet and toast for 8 minutes, or until golden and fragrant. Let cool, then coarsely chop





Line a baking sheet with parchment or wax paper. In a glass bowl, heat two-thirds of the chocolate in a microwave oven at high power in 30-second bursts until just melted. Stir until smooth. Add the remaining chocolate and stir until melted. Stir in the walnuts, cherries and crystallized ginger until evenly coated. Scrape the mixture onto the prepared baking sheet and spread it into a 12-by-8-inch rectangle. Refrigerate for 10 minutes, or until firm enough to cut.





Cut the bark into 48 pieces (6 rows by 8 rows) and transfer to a plate. Serve cold or at room temperature.



Behind the glamour, is a consciousness of being local, organic, reasonable, and sustainable. The shellfish buffet is the great example for the paleo and the skin-friendly...



350 lb.s of troll-caught Atlantic Bigeye
20 whole US Wild Caught Yellowtail
350 lb.s of salmon
1,300 farmed oysters
10 kilos of American farm-raised caviar.
7,500 individual US Shrimp
250 Maine Lobster
3,600 cage-free eggs
250 pounds whole Jidori chickens
Meat, poultry, and dairy good raised without hormones or antibiotics.

Yes, Wolfgang and the Academy knows that the food will be decadent, outlandish, and plenty;..and the guests are still figure-consciousness who just nibble.

What to do with all these food? Too bad there is no carry-out for the frugal foodie.

All the unused food will be recovered to support the local branch of "Chefs to End Hunger."

They recycle the plastics, metals, glass, paper, and cardboard.

The floral arrangements will be mulched into compost. Their containers will be recycled. Those gorgeous floral arrangements too beautiful to destroyed, will have a second life, being donated to senior-living housing. So kind.

The plywood used in the design are repurposed.
Boy! If all that cooking and stirring over an hot oven and baking in the oven, got you working up a thirst, the Governors Ball's Hilhaven Lodge can quench your thirst...
The highball called "The Road Less Traveled"
1.5 oz Hilhaven Lodge Blended Straight American Whiskey
0.75 oz. Fresh Lemon Juice
0.5 oz. Bourbon Vanilla Chai Tea Syrup
1 oz. Dandelion Burdock Root Soda
The one in the fun globe for sipping is The Lodge
1.5 oz Hilhaven Lodge Blended Straight American Whiskey
0.3 oz Punte e Mes Sweet Vermouth
0.3 oz East India Sherry
3 drops of Chocolate Bitters
Ciroc French 75 is the one in the classic champagne glass
1.5 oz Ciroc Vodke
0.75 oz French Lemon Juice
0.5 oz Simple Syrup
Splash of Champagne
Hilhaven Lodge Old Fashioned
1.5 oz Hilhaven Lodge Blended Straight American Whiskey
0.5 oz Demerara Simple Syrup
1 dash Angostura Aromatic Bitters
1 Orange Peel
No wonder folks are dying to get into the Oscars. It isn't the award itself, but the knowing information that you will be fed well, for all that hard work and dedication.